Regrow Your Hair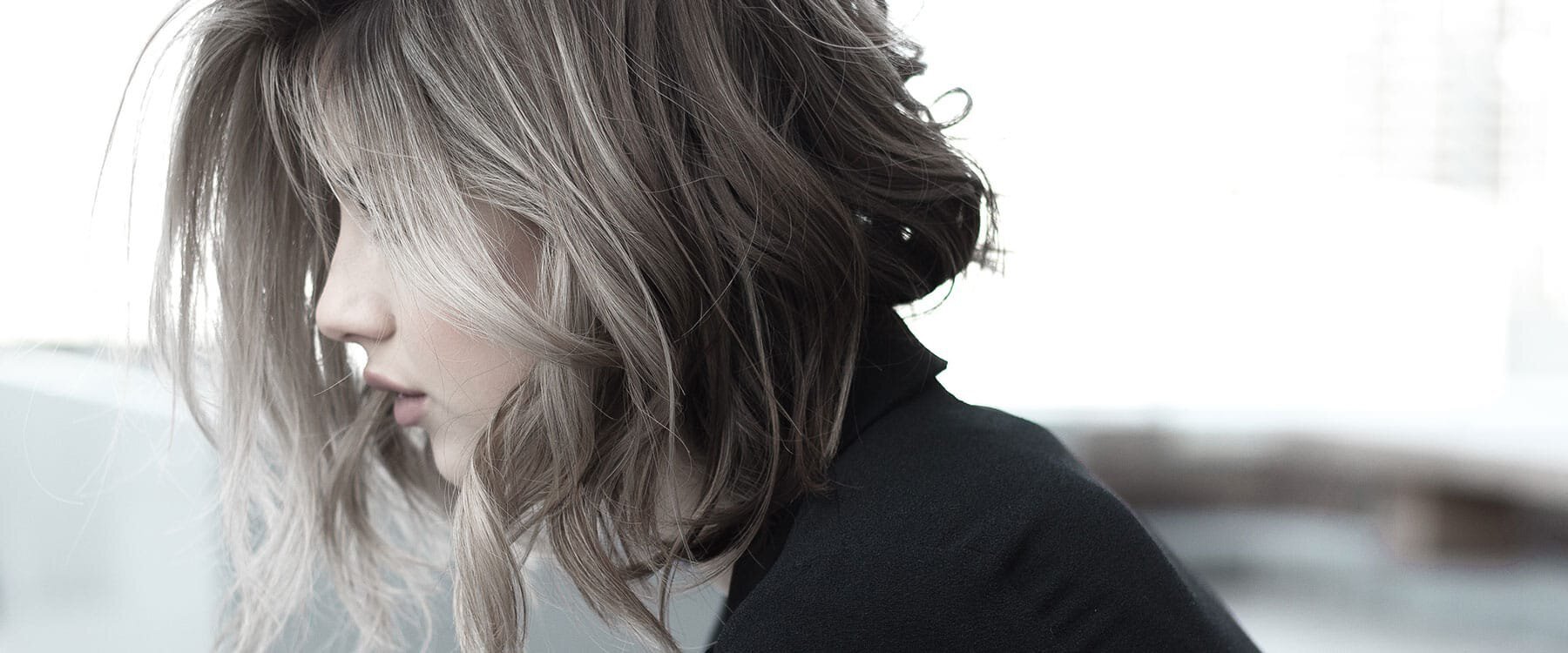 Regrow Your Hair
with PRP Injection Treatments
Activate Dormant Hair Follicles with PRP Injection Treatments, Regrowing Hair without Surgery or Significant Downtime
Is your hair thinning, causing bald spots or a receding hairline? Hair loss occurs in both men and women with different causes. For some, the condition can be linked to medication or other medical conditions and stress; for others, it's part of the aging process and genetics. The solution is often different depending on the cause, but for most people experiencing hair loss, the desire is to avoid hair plugs or grafting whenever possible. That's where PRP injections at St. George Med Spa come in!
What Are PRP Injections?
PRP, or platelet-rich plasma, also known as "liquid gold" is naturally occurring in your blood and works anti-aging miracles we're only just beginning to understand. PRP injection can be used in the scalp or in the face for natural facial rejuvenation; it's also applied topically during some skin rejuvenation treatments.
Physicians and surgeons have also found that PRP injection can help with chronic joint pain and sports injuries, and more research is being done all the time to determine treatment efficacy and other possible uses for PRP.
How We Get PRP for Your Hair Treatment
To extract PRP, we perform a blood draw just like your lab technician would during a blood test. Once the blood draw is completed, we send the tubes through a centrifuge, separating the liquid gold out before putting it into a syringe for scalp injections.
How Do PRP Injection Treatments for Hair Loss Work?
After ensuring your comfort with a topical numbing gel, we apply several injections into the scalp where hair loss and thinning is occurring. These precise injections allow the PRP to activate dormant hair follicles, stimulating hair growth.
After a series of treatments, hair will not only regrow, but it will grow back thicker and stronger than before, giving you a full head of strong, healthy hair. Beautiful!
Who Is a Good Candidate for PRP Injection Treatments for Hair Regrowth?
If you've noticed your hair is thinning and other products have not worked for you, you may be a good candidate for a PRP injection treatment to help regrow your hair. Men and women with pattern baldness respond very well to PRP hair treatments, though the treatment isn't right for everyone.
During your consultation, we will discuss your hair loss concerns, take a medical history, and go over the medications and supplements you're taking. We will review any other hair regrowth options you may have pursued in the past and examine your scalp and hair. We may also discuss your family history to understand if your hair loss is hereditary or linked to another cause.
We will also discuss your expectations for treatment, as PRP hair regrowth takes several applications to see full results.
If we determine that PRP injections are right for you, we will move forward with your treatment series, providing you with pre- and post-care instructions and a schedule of appointments to ensure best results.
Why Should I Choose PRP Instead of Hair Plugs or Grafts?
It's up to you which you should choose, depending on what's right for you. However, if you're able to choose between the two, we'd like to make the case for PRP. It's really quite simple.
PRP is Natural: Platelet-rich plasma is derived from your own blood draw and immediately injected following separation. It activates dormant hair follicles, naturally regrowing your hair.
PRP is Non-Surgical: Unlike hair plugs and grafts, PRP is not surgery. You won't require anesthesia or significant downtime. PRP injections are very comfortable and you can go back to your regular routine right away following each treatment.
Finally, hair plugs use your own hair as it is now, while PRP not only grows new hair, it also makes the hair shaft thicker, stronger, and healthier, for better, long-term results.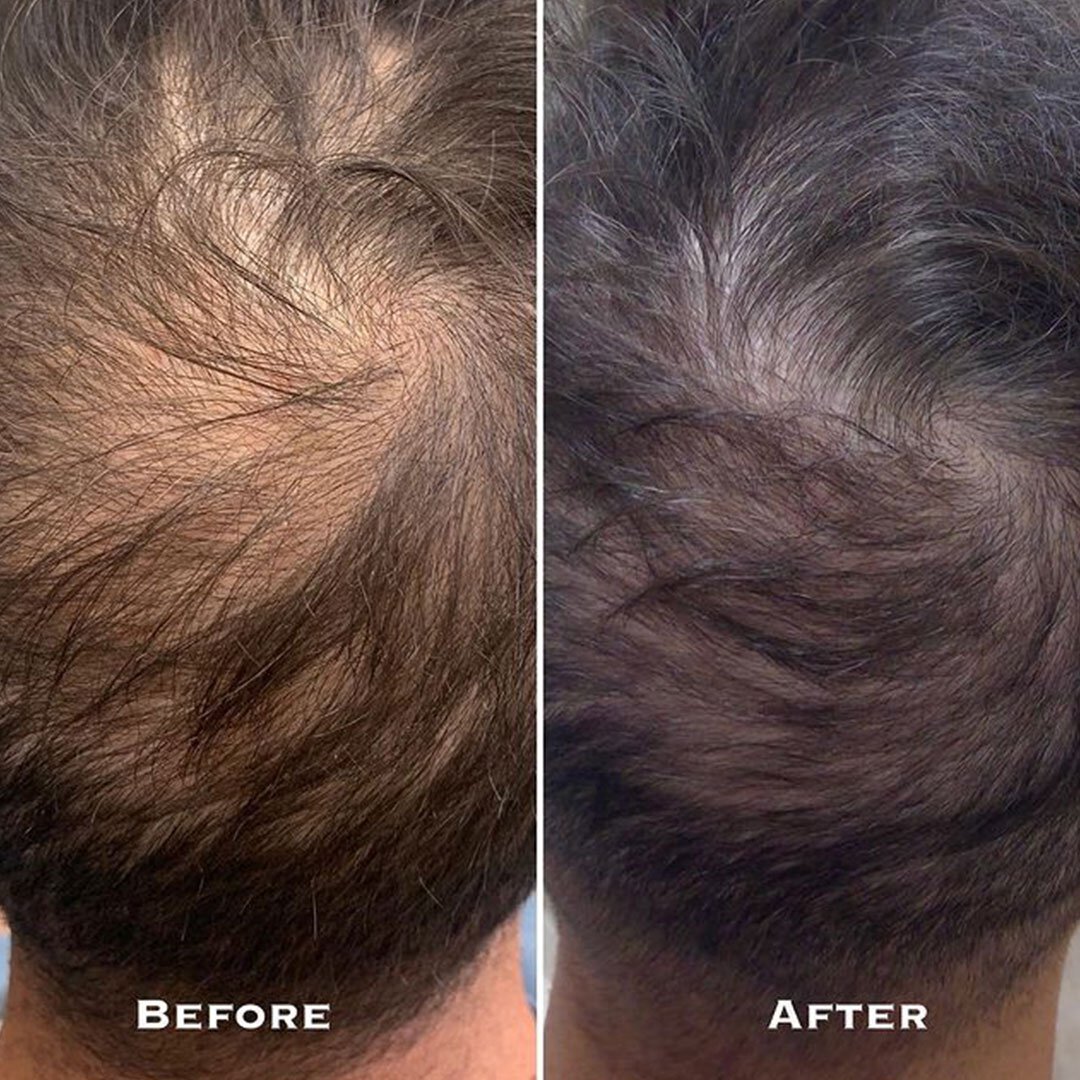 Results after two applications
How Does Hair Loss Occur?
There are many reasons for hair loss; some are hereditary and others are environmental. If you have a family history of hair loss, that is likely where your hair loss started. However, many people experience hair loss due to:
Illness
Medications
Cancer therapies
Stress
Poorly placed hair extensions
Hair care and styling habits and products
It's important to note that we all shed hair constantly, but that doesn't mean we're all going bald. There's a distinction between the two, so how do you know if you should be concerned about your hair loss?
Hair is coming out in large clumps, such as when brushing or washing your hair.
You're noticing bald spots or areas where the hair is thinning, revealing more of your scalp.
You can see your hairline is receding, revealing more scalp in the front than before.
It's a good idea to compare your hair now to photos of you from a few years ago to see if you notice a change. We can also go over your scalp and hair health during your consultation to determine if hair loss is indeed occurring.
Other Uses for PRP at St. George Med Spa
In addition to scalp injections for hair regrowth, platelet-rich plasma is also used for skin rejuvenation, most commonly on the face. We offer topical PRP application along with microneedling treatments to enhance youthfulness, reduce fine lines, and improve skin tone and texture.
Get Started with PRP Injections in St. George, Utah
Are you ready to regrow hair that's thicker, stronger, and healthier, without surgery or downtime? St. George Med Spa in St. George, Utah, is here to help you with your hair loss struggles and hair regrowth goals.
Book a consultation today and find out if PRP for hair regrowth is right for you.
We can't wait to meet you!