How to Get Rid of Wrinkles Without Surgery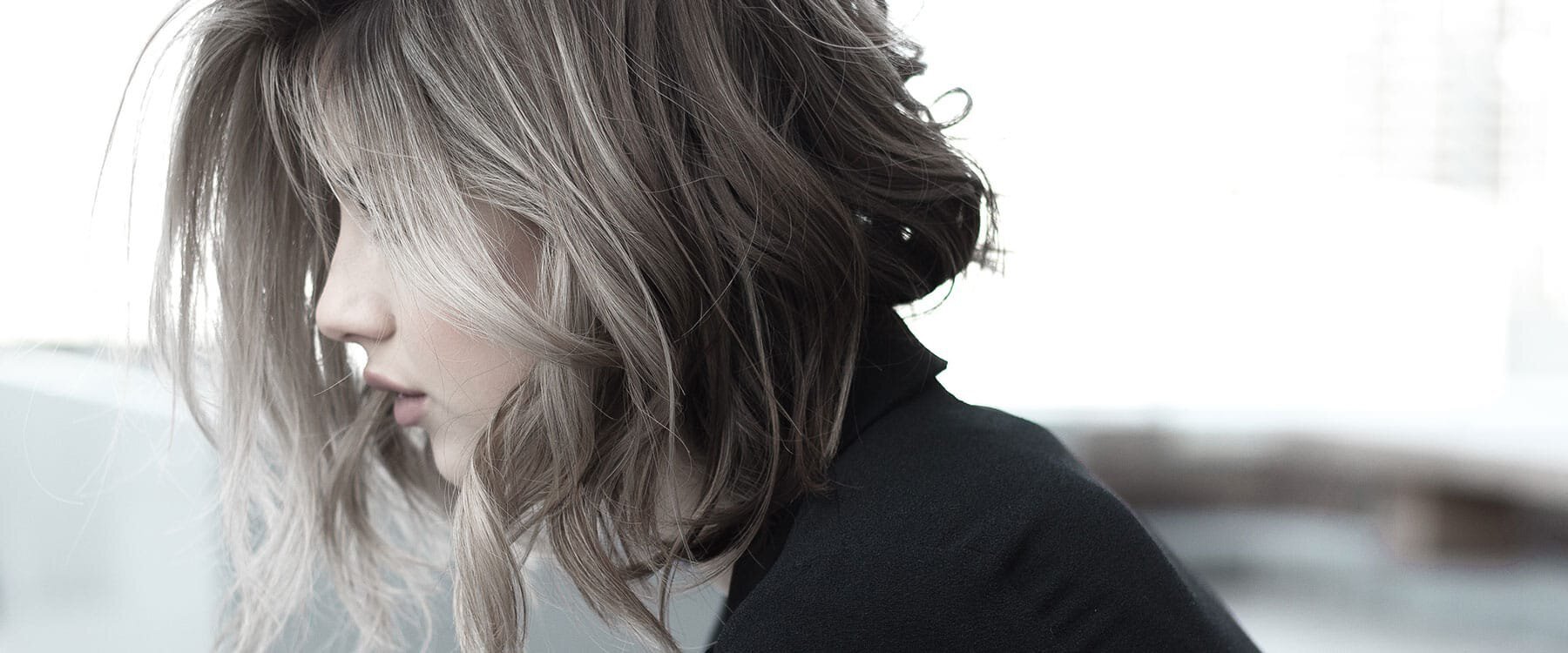 The Secret to Aging Gracefully Lies With Professional, Non-Surgical Medical Spa Facial Anti-Aging Treatments
Stop searching for the perfect wrinkle cream. While high quality, professional skincare products are an important part of healthy, youthful-looking skin, lines and wrinkles don't go away using topical products alone. Combining the right products with professional treatments is the best way to combat facial aging.
Learn how to get rid of wrinkles and age gracefully with non-surgical anti-aging treatments provided by professional medical aesthetic specialists at St. George Med Spa in Utah.
St. George Med Spa Shows You How to Get Rid of Wrinkles
If you are worried about how to get rid of wrinkles easily but effectively, we have clinically proven treatments and licensed aesthetic providers ready to help you at St. George Med Spa.
We offer a variety of nonsurgical options to leave your face softer, smoother and scar-free. These treatments range from noninvasive to minimally invasive but all promise to smooth away wrinkles without any incisions.
If the thought of surgery has been holding you back from treating your wrinkles, turn to our medical aesthetic specialists for a safe treatment plan designed especially for your needs.
Professional, Clinically Proven Treatments
We are proud to offer a variety of nonsurgical options for facial aging. From common options, such as BOTOX, to treatments that you may never have heard of before, such as threads, our treatments are tried, tested, effective and backed by science. With one of our many solutions, you will no longer have to worry about how to get rid of wrinkles on your own.
BOTOX
BOTOX, Dysport, and Xeomin fall into a category of wrinkle reducers known as neurotoxins. These treatments work best when used on dynamic wrinkles caused by muscle activity beneath the skin. These are among the most popular options for people who have been wondering how to get rid of wrinkles because they are often used on the first lines and wrinkles that show up on the skin.
BOTOX is the most popular and widely known option. It is made from botulinum type A and has undergone many successful clinical trials. When injected beneath the skin, it smooths away wrinkles by stopping the nerve transmission to the muscle. Therefore, when you smile or frown, that wrinkle will no longer appear. BOTOX injections normally last three to four months.
Xeomin is another similar product made of the same active ingredient, primarily used for frown lines.
Dermal Fillers
If you are wondering how to get rid of wrinkles that are deeper and do not go away when your face is at rest, dermal fillers may be the answer.
FDA-approved dermal fillers are injectable gels that fill in deep-set wrinkles or hollowed-out areas of the face. Restylane and Juvederm are similar filler collections made from hyaluronic acid, a substance that occurs naturally in the body which draws in water from the surrounding area to improve moisture, hydration, and fullness. Each of these filler collections have different individual fillers that are used for specific treatments, such as for the cheeks or lips.
Radiesse features calcium hydroxyapatite as its active ingredient and lasts from 12 to 18 months on average.
Thread Lifts With Silhouette InstaLift
Biodegradable sutures offer skin tightening, lifting and smoothing and can be completed during your lunch break. Sometimes called the lunchtime facelift, Silhouette InstaLift Threads offer immediate lifting and tightening with results improving over time. The threads stimulate natural collagen production to enhance youthful fullness while lifting and tightening with amazing results.
Laser Skin Resurfacing
Laser skin resurfacing may be your ideal solution for how to get rid of wrinkles if you are also dealing with such issues as hyperpigmentation and poor texture. Using high-powered light energy, lasers heat up the tissues beneath your skin to improve collagen growth, decrease dark spots and improve the tone and texture of your skin.
In many cases, following laser treatments, we may recommend injectables to finish off your look. Lasers must be done first, however, as the heat from the laser treatment can break down fillers placed in the area.
Microneedling With PRP
Microneedling with PRP offers a minimally invasive option for clearing up fine lines, improving your glow and seeing better skin texture. Micro-needles passed over the skin stimulates your natural healing processes, boosting collagen production and skin cell turnover. By adding platelet-rich plasma, or PRP, to the microneedling session, we amplify the healing effects.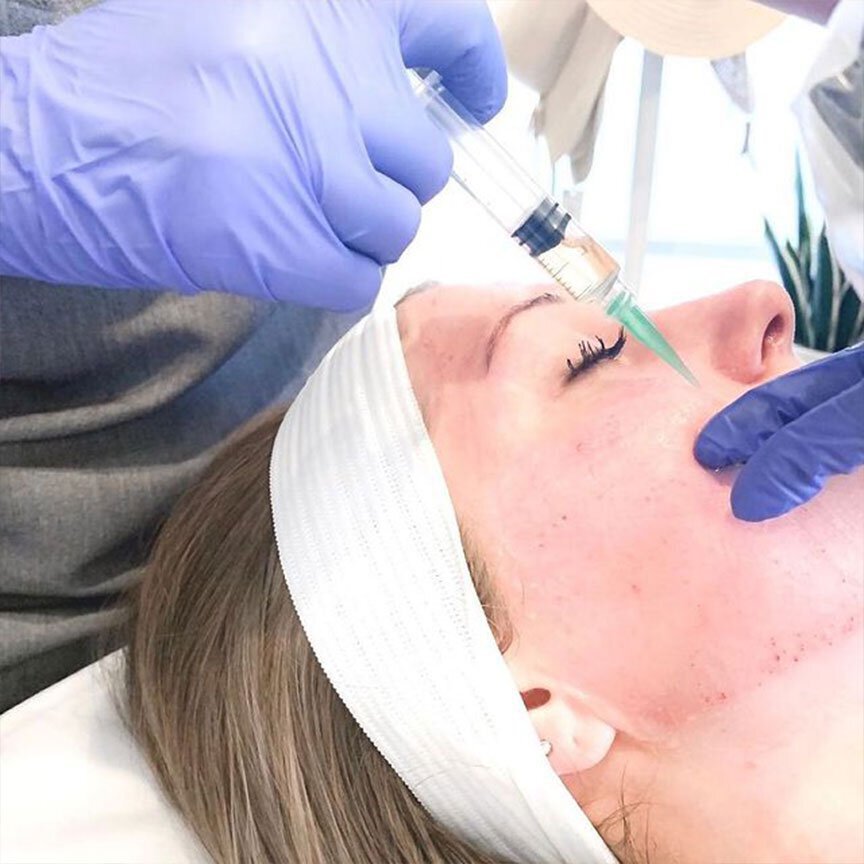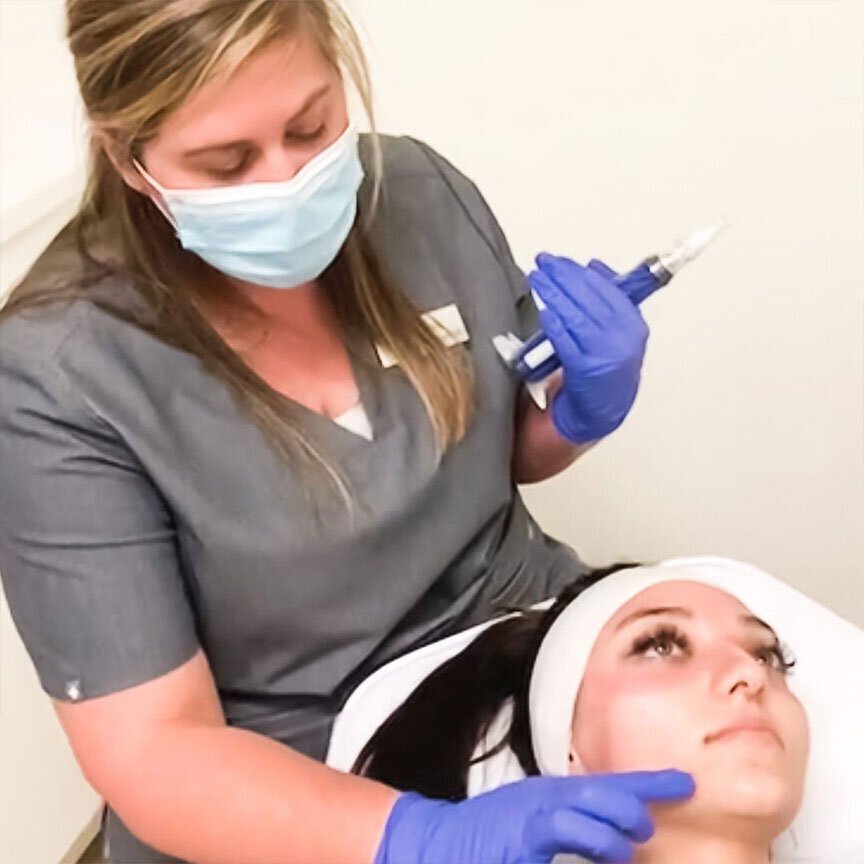 Plasma Pen
The Plasma Pen is a revolutionary, non-surgical, minimally invasive treatment that uses targeted fibroblasts to trigger collagen production. This, in turn, rapidly lifts and tightens the skin, reducing the appearance of fine lines and wrinkles. This is a wonderful treatment particularly around the eyes for a non-surgical blepharoplasty (upper and lower eye) and around the lips.
DiamondGlow Skin Resurfacing
DiamondGlow is a facial skin rejuvenation and resurfacing system which offers a complete and customized approach beyond what a regular facial can accomplish. Combining the holy trinity of facial care — exfoliation, extraction, and serum infusion — the DiamondGlow addresses multiple skin concerns for all skin types and tones. This is the perfect anti-aging maintenance and prevention treatment if you've just started seeing lines or if you've done other treatments and want some refreshing touch-ups between appointments.
What Types of Facial Aging Concerns You?
Your first step in discovering how to get rid of wrinkles and other skin issues that are bothering you is to find a treatment plan that works best for your specific needs. As we help you put together a unique treatment plan during your consultation, we will assess your skin as well as your personal goals to discover the best options for you.
How to Get Rid of Wrinkles on the Forehead
Years of facial expressions, such as raising your eyebrows in surprise, often cause forehead wrinkles. Years of sun damage also hurry these horizontal wrinkles along because the forehead is particularly vulnerable to the sun's rays. When wondering how to get rid of wrinkles along the forehead, you will quickly learn that the best treatments usually include:
BOTOX, which can treat these expression lines quickly, and is the gold standard for treating forehead wrinkles.
Laser treatments, particularly if your forehead lines are combined with other skin tone and texture concerns.
Microneedling when forehead lines are just beginning to form. Like laser treatments, microneedling can address other skin concerns like scars and hyperpigmentation.
How to Smooth Away Crow's Feet
Crow's-feet form at the outer corners of the eyes and are also caused by expressions or squinting of the eyes.
BOTOX will smooth away these lines temporarily while still allowing you to make natural-looking expressions.
Laser skin resurfacing is another great option for smoothing away these fine lines.
Microneedling can help if crow's feet are minimal or as a preventative treatment.
Plasma Pen really rocks this and can be used on the crow's feet, under-eye, and upper eyelid in one session for amazing results.
Treatments for Frown Lines and Bunny Lines
Bunny lines and frown lines are the vertical lines between the eyebrows that show up mainly when you frown or grimace. The best solution for these is most often Botox or Xeomin.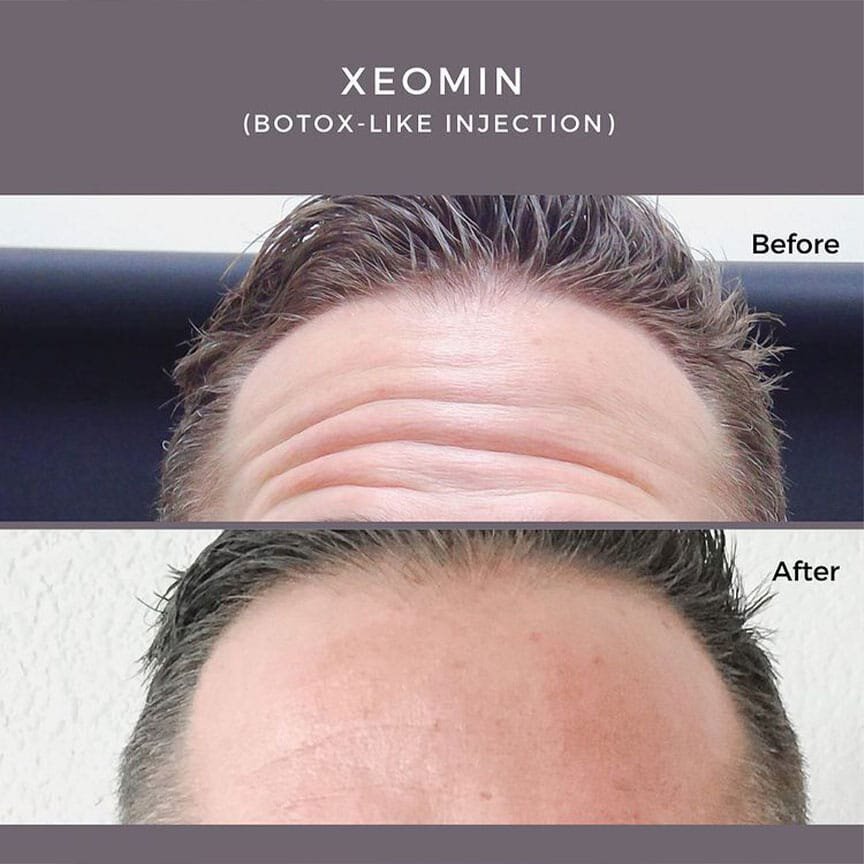 Nonsurgical Treatments for Eye Wrinkles
When you discover how to get rid of wrinkles above and beneath your eyes, you may feel surprised at how open your face appears and how well-rested you look. We base the treatment on the laxity of your skin and the presence of bags or wrinkles.
Dermal fillers can fill in hollowed-out eye areas, or lasers can fade away light lines and wrinkles.
Microneedling with PRP can also naturally increase collagen in the area.
Plasma Pen allows us to address the full eye area, above and below, for a non-surgical blepharoplasty.
How to Get Rid of Wrinkles and Lines Around the Nose and Mouth
The lines and wrinkles around the nose and mouth are typically deeper than those found around the eyes and are usually known as static wrinkles because they remain present even when your face is at rest. You may see marionette lines between your mouth and chin while also seeing nasolabial folds between the corners of your nose and the lips. Our medical aesthetic specialists know how to get rid of wrinkles in these areas using:
Silhouette InstaLift Threads to lift and tighten the wrinkles and folds while stimulating collagen growth to restore lost facial volume, which leads to sagging.
Dermal fillers, either in the wrinkles and folds or farther up in the mid-face/cheek area. This restores lost volume, lifting the skin up and back for a more youthful look.
How to Smooth and Reduce Vertical Lip Lines or Smoker's Lines
Years of pursing the lips, such as when you frequently smoke, can cause vertical lines around the lips. BOTOX was the top solution for fine vertical lines that have not set into the skin, but this was largely replaced by:
Dermal fillers, specifically hyaluronic acid-based fillers which have been made thinner, smoother, and easier to manipulate, with improved, softer, more natural-looking results.
Microneedling targets fine lines, stimulating skin cell turnover and collagen production for natural smoothing and anti-aging.
Plasma Pen is also sometimes used for lip lines as it, like microneedling, triggers natural collagen growth and skin tightening.
Treatments for Neck Wrinkles and Lines
It is just as important to know how to get rid of wrinkles on your neck as it is to know how to treat visible lines and wrinkles on your face. Neck wrinkles often appear as horizontal bands of skin as your neck skin begins to droop over time. However, wrinkles may also appear vertically as the skin develops a crepe-like appearance.
BOTOX can treat the platysmal bands, tightening the neck muscles and reducing the appearance of aging.
Dermal fillers can smooth some light horizontal lines (tech neck) while threads offer excellent results for lifting drooping or sagging skin.
Microneedling may also be recommended, depending on your needs, to reduce the appearance of very fine lines.
Why Choose St. George Med Spa to Treat the Signs of Facial Aging?
Wondering how to get rid of wrinkles that are making you feel less youthful? You can confidently turn to St. George Med Spa for a complete list of safe, nonsurgical treatments.
Our medical spa will immediately set you at ease with its soothing, spa-like feel with a clinical approach to care. We offer state-of-the-art treatment rooms that are always warm and inviting rather than sterile.
In addition, when you want to know how to get rid of wrinkles, you can count on us to bring you the most advanced treatments. We pride ourselves on providing individualized treatment plans that are based on your true issues rather than on the popularity and marketing of the latest treatments and technology.
Our medical aesthetic specialists have all joined our team based on their knowledge and experience. They will ensure that you have a thorough, personalized consultation focusing on your unique needs before starting any treatments.
Schedule an Appointment to Look Younger in St. George, Utah
Stop asking yourself how to get rid of wrinkles, and instead experience amazing results when you choose one of our safe, nonsurgical treatments at St. George Med Spa. Contact us for a consultation and discover how to get rid of wrinkles with the help of a professional aesthetics team.