Get Clearer, Younger-Looking Skin with These Exfoliating Treatments and Products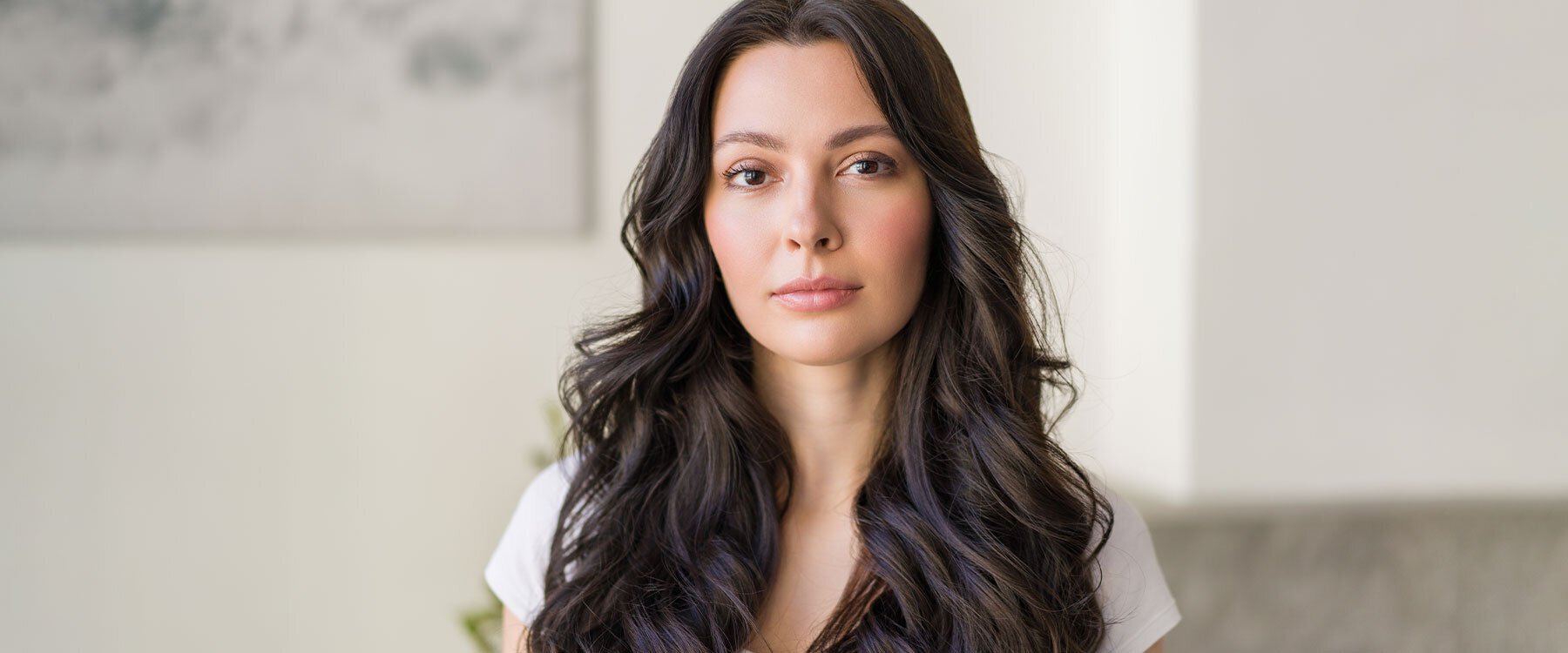 Exfoliating Treatments And Products Are Essential Steps In Your Skincare Routine, But Which Ones Are Right For You?
You've heard that exfoliating is essential for healthy, clear, younger-looking skin, but you're likely at a loss as to which products and treatments are right for your needs. Should you use chemical or physical exfoliation products? How often should you use them? Are monthly chemical peels enough to achieve the right results?
The good news is that all of the answers you need are just a consultation away, as our aesthetic experts are here to evaluate your skin to determine your needs and help you achieve your goals with professional treatments and high-quality, medical-grade skincare products here at St. George Med Spa. While you wait for your consultation, we recommend you read through this primer on exfoliating treatments and products we offer.
What Are The Benefits of Exfoliating?
When you select the best exfoliating treatments and products for your needs and use them consistently, you can achieve smoother skin in both tone and texture.
Exfoliating addresses these common skin complaints:
Brown spots
Bumps and blemishes
Clogged pores
Dull skin tone
Fine lines
Hyperpigmentation
Melasma
Scars
Sun damage
The treatments and products an aesthetic provider recommends will depend on your skin's health, tone, type, and needs; what works for one person may not work for another, so it's important to seek support from an expert who knows how to treat your skin's unique needs, such as our aesthetic professionals at St. George Med Spa.
Exfoliating Treatments at St. George Med Spa
Our exfoliating treatments include microneedling, laser skin rejuvenation, photo rejuvenation, and the DiamondGlow facial. All of these treatments are non-invasive and use medical-grade devices to achieve beautiful results.
Microneedling
Microneedling uses tiny needles to create micro-channels in the skin that stimulate collagen production for firmer, more youthful-looking skin. It is perfect for all skin types and can be used on the face, neck, chest, hands, and décolletage.
While the treatment triggers collagen growth beneath the skin, the skin's surface also benefits. Microneedling stimulates rapid skin cell turnover, brightening skin, reducing the appearance of dark spots, scars, and lines. The skin becomes smoother in both tone and texture while topical serums or platelet-rich plasma (PRP) enhance results.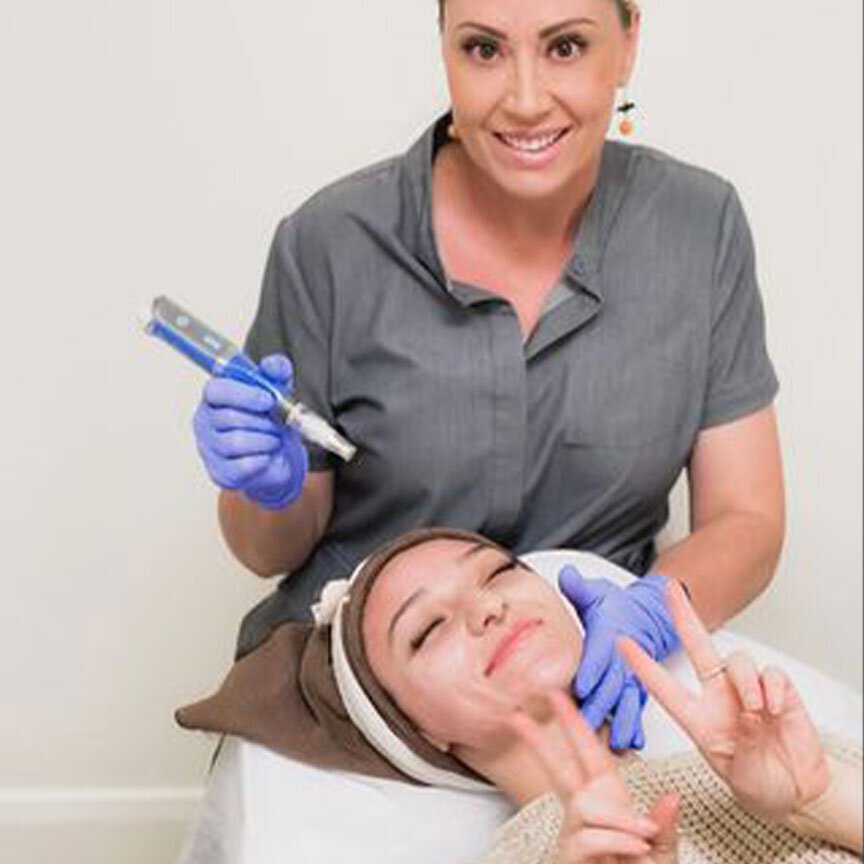 Laser Skin Rejuvenation
Our laser skin rejuvenation treatments use fractional lasers to resurface the skin by targeting damaged tissue with precision. The result is a reduction in wrinkles and age spots, as well as an improvement in skin tone and texture. These treatments are perfect for all skin types, including those with sensitive skin.
As the laser targets skin imperfections in multiple dermal layers, poor quality skin sloughs away to reveal fresh, youthful, undamaged skin.
Photo Rejuvenation
Our photorejuvenation treatments use gentle pulsed light to improve the appearance of sun damage, age spots, wrinkles, and other signs of aging. This treatment is perfect for all skin types and can be used on the face, neck, chest, hands, and décolletage.
Much like laser treatment, the light stimulates skin cell turnover to fade blemishes.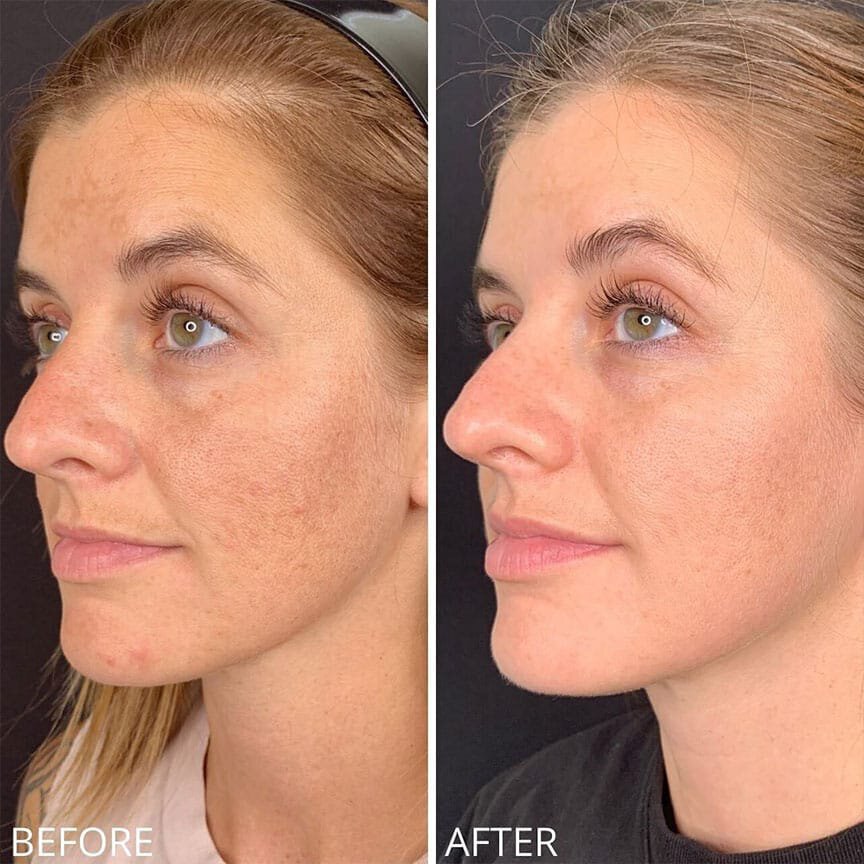 DiamondGlow Facial
The DiamondGlow treatment is an all-in-one skin rejuvenation and resurfacing system combining the benefits of a facial, microdermabrasion, and hydration. Cleansing, exfoliating, resurfacing, and moisturizing are performed using a handheld wand that breaks up topical debris and dead skin, vacuuming pores, and deep infusion of serums.
Medical-Grade Skincare Products
In addition to our exfoliating treatments, we also offer a wide range of medical-grade skincare products that are perfect for home use. These include:
Facial Cleansers: We offer a variety of facial cleansers that are perfect for all skin types, including those with sensitive skin. Our cleansers are designed to remove dirt, oil, and makeup while gently cleansing and refreshing the skin. Depending on your needs, your cleansers may also include chemical exfoliating ingredients, such as alpha-hydroxy acids (AHAs) and beta-hydroxy acids (BHAs).
Exfoliating Scrubs: Gentle skin scrubs, using high-quality ingredients, can buff away buildup and dead skin without damaging your skin. Not all scrubs are created equal, so it's important to seek high-quality, medical-grade products with the advice and guidance of a skincare expert. Some skin scrubs are very damaging to your skin.
Moisturizers and Creams: We offer a variety of moisturizers that are perfect for all skin types, including those with sensitive skin. Our moisturizers help to hydrate and protect the skin while preventing moisture loss. Some also offer chemical exfoliation, such as those including AHAs and BHAs.
Sunscreen: While sunscreen is not for exfoliation, it is crucial when receiving such treatments and/or regular use of exfoliating products. Many products and treatments render your skin more photosensitive, leading to more sun damage. Wear large hats as well, whenever possible.
Our exfoliating treatments can help improve your complexion and our medical-grade skin care products can help keep your skin healthy and beautiful at home. It's important to pair the right treatments with the right at-home skincare regimen for best results and ongoing skin maintenance. With the guidance of our skincare experts at St. George Med Spa, you can achieve the skin of your dreams.
Why Choose St. George Med Spa for Exfoliating Treatments and Products
At St. George Med Spa, our focus is on you: your unique needs and goals for your appearance. We are very selective in the procedures we offer and the products we recommend to our patients. It all starts with a comprehensive, personalized consultation with our team. We work with you to determine the best solutions for your skin rejuvenation needs and goals.
Book Your Skin Rejuvenation Appointment Today
We love helping our patients look and feel more rejuvenated and beautiful. Once you try us, we know you'll love us. Book a consultation with our team of aesthetic specialists today.